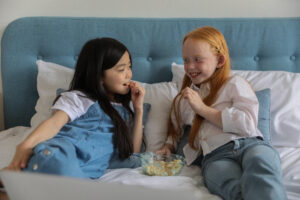 "There was considerable antipathy between the Jews and the Samaritans at the time of Christ. Under normal circumstances, these two groups avoided association with each other." This is a lot like what I see in the news between black and white people even though it has been over a century since emancipation and decades since segregation… Surely good neighbors should put forth every effort to understand each other and to be kind to one another regardless of religion, nationality, race, or culture.
Occasionally I hear of members offending those of other faiths by overlooking them and leaving them out. This can occur especially in communities where our members are the majority. I have heard about narrow-minded parents who tell children that they cannot play with a particular child in the neighborhood simply because his or her family does not belong to our Church. This kind of behavior is not in keeping with the teachings of the Lord Jesus Christ. I cannot comprehend why any member of our Church would allow these kinds of things to happen. I have been a member of this Church my entire life. I have been a full-time missionary, twice a bishop, a mission president, a Seventy, and now an Apostle. I have never taught—nor have I ever heard taught—a doctrine of exclusion. I have never heard the members of this Church urged to be anything but loving, kind, tolerant, and benevolent to our friends and neighbors of other faiths.
…The Lord expects a great deal from us. Parents, please teach your children and practice yourselves the principle of inclusion of others and not exclusion because of religious, political, or cultural differences…get to know your neighbors. Learn about their families, their work, their views. Get together with them, if they are willing, and do so without being pushy and without any ulterior motives. Friendship should never be offered as a means to an end; it can and should be an end unto itself. I received a letter from a woman who recently moved to Utah, a small part of which I quote:
"I must tell you, Elder Ballard, that when I greet my neighbors, or if I wave to them, they do not acknowledge my greeting. If I pass them while taking my morning or evening walk, my salutation is not returned. Other people of color consistently express similar negative responses to friendly gestures.
If members of the Church are among her neighbors, surely they must know that this should not happen.
Let us cultivate meaningful relationships of mutual trust and understanding with people from different backgrounds and beliefs."